U.S. National WCD Experience
<< Back to all published studies
Aggregate National Experience With the Wearable Cardioverter Defibrillator: Event Rates, Compliance, and Survival

Purpose
This study was created to review efficacy, wear time, and long-term survival for patients who wore the LifeVest Wearable Cardioverter Defibrillator (WCD) compared to patients who received an ICD.

Methods
Retrospective analysis of U.S. patients (n=3,569) with a mean age of 59.3± 14.7 years that were recorded in a nationwide registry of post-market release WCDs.
Includes all patients who wore the LifeVest WCD at some point between August 2002 and December 2006.
Survival, using the Social Security Death Index (SSDI), was compared to the survival of Cleveland Clinic patients who underwent ICD implantation.

Key Results
80 sustained VT/VF events occurred in 59 patients (1.7%). First shock success was 76 of 76 (100%) for unconscious VT/VF and 79 of 80 (99%) for all VT/VF.
Daily use of WCD was >90% in 52% of patients and >80% in 71% of patients. Median daily use was 21.7 hours or 91% of time available. Longer duration of monitoring correlated with higher wear time rates.
During WCD use, overall acute survival was 99.2%. Long-term mortality rates in ICD and WCD groups were not significantly different for 3 years and 3 months timeframe.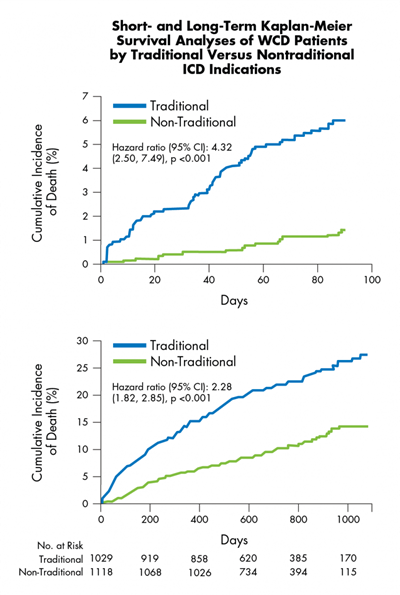 Conclusions
The WCD is highly effective in converting VT/VF on the first shock.
Patient wear time of the WCD is high. Daily use of the WCD was >90% by most patients.
Long-term survival data indicates WCD therapy is comparable to ICD therapy, rationalizing use of the WCD as a bridge to long-term ICD implantation.
The WCD is a reasonable treatment option for patients with uncertain, long-term status awaiting a permanent ICD.
Click here to read the full publication
Chung MK, Szymkiewicz SJ, Shao M, et al. Aggregate national experience with the wearable cardioverter-defibrillator: Event rates, compliance, and survival. J Am Coll Cardiol. 2010;56(3):194–203.