Modern Healthcare: March 2019
Wearable Technologies Are Helping Patients' Treatments Fit Like a Glove
Modern Healthcare reports on the wearable technologies showcased in the Museum of Science and Industry's new "Wired to Wear" exhibit, including the LifeVest wearable defibrillator. Health technology accounts for one-third of the exhibit, which will remain open through spring 2020.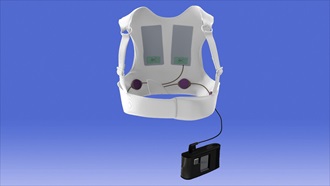 The 8,000 square-foot exhibit brings together more than 100 items that represent the most cutting-edge wearable technology, housed in one of the largest science museums in the world, located in Chicago. Alongside ZOLL, Wired to Wear exhibitors encompass tech pioneers such as Google, Intel, Microsoft and NASA, as well as renowned universities and laboratories.
LifeVest is worn by patients at risk of sudden cardiac death. LifeVest is designed to detect a life-threatening rapid heart rhythm and automatically deliver a treatment shock to save a patient's life, without any bystander intervention.
LifeVest saves about three patients' lives each day.