<< Back to all patient stories
Mike Williams' Story
"If you're at risk for sudden death, wear the LifeVest."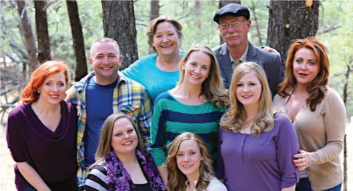 Mike Williams' advice for LifeVest® patients is simple: "If you're at risk for sudden death, wear the LifeVest." Mike owes his life to the device. He wants other patients to understand that they will not have time to react if they experience a sudden cardiac arrest: "You don't know when you could have a problem. I had no warning at all."
Mike was prescribed the LifeVest wearable cardioverter defibrillator (WCD) after he suffered a heart attack. When he came to the hospital, doctors discovered that his blood flow had been compromised for up to four days. As Mike remembered, "It did a lot of damage to my heart." At that point, Mike's daughter was in her last semester of college. He told his doctors, "I want to get well enough to make it to Macy's graduation. She's our youngest child."
Mike's doctors knew that the damage caused by his heart attack had put him at high risk for sudden cardiac death. Before they would let him leave the hospital, they prescribed LifeVest.
"When they were going to send him home, I was scared," recalled Mike's wife, Debbie. "I was afraid that if he passed out and I wasn't with him, something could happen." The Williams' cardiac team explained that the LifeVest WCD was designed to continuously monitor Mike's heart, and if it detected certain life-threatening rapid heart rhythms, the device would deliver a treatment shock that could save his life.
"Without the LifeVest, I wouldn't have been able to let him out of my sight," Debbie said. "But the LifeVest takes the burden off of you. It gave me a lot of security knowing I could be out of the room and the LifeVest would take care of him."
Mike and Debbie left the hospital with peace of mind and returned to their daily lives. Eight days later, however, Mike did suffer a sudden cardiac arrest as Debbie was driving. "When I passed out, it was the worst possible time. We were driving down the road quite far from a hospital. We were in the middle of nowhere."
"I didn't know it was coming at all," Mike explained. "I was talking to Debbie, and the next thing I knew we were on the side of the road." Mike has no recollection that he abruptly lost consciousness as his LifeVest detected a life-threatening rapid arrhythmia and delivered a treatment shock that restored his normal heart rhythm and saved his life. He regained consciousness shortly after the treatment and Debbie called 911. An ambulance arrived on the scene and took Mike to the hospital.
Thanks to LifeVest, Mike did make it to Macy's graduation. "We could so easily have lost him," Debbie shared. "It has changed our life so much. Now we have a second chance, we're going to slow down and enjoy it. We are just so happy." Mike reflected on what the experience meant to his family: "The LifeVest didn't just save my life. It saved my relationship with the kids and the grandkids and gave me the chance to do things with them for the rest of my life."