Post-MI WCD Study
<< Back to all published studies
Wearable Cardioverter-Defibrillator Use in Patients Perceived to Be at High Risk Early Post-Myocardial Infarction

Purpose
This study was conducted to better understand the incidence, survival, and timing of VT/VF in post-myocardial infarction (MI) patients with a low ejection fraction (EF) that wore a Wearable Cardioverter-Defibrillator (WCD) during mandated waiting periods following MI.

Methods
Retrospective study of U.S. patients (n=8,453), age 62.7 ± 12.7, that were recorded in a nationwide registry of post-market release WCDs from September 27, 2005 through July 13, 2011.
Patients studied had a recent MI and an EF of ≤ 35%.

Key Results
1.6% (n=133) of patients were appropriately treated by the WCD with a median time to treatment of 16 days.

Median time to treatment in post-revascularization patients was 14 days.

75% (n=100) of treated patients received therapy during the first 30 days post-MI and 96% (n=128) of patients received therapy within the first 3 months of WCD use.
Overall post-event survival in patients treated with the WCD was 91% (95% in revascularized patients and 84% in non-revascularized patients).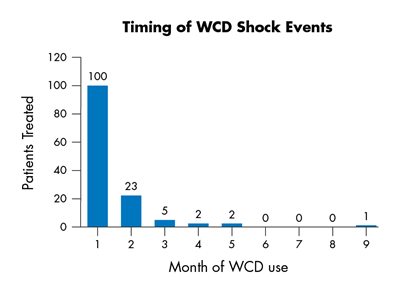 Conclusions
Most of the WCD treatments observed during the course of the study occurred within the highest risk period, the first 90 days following a cardiac event.
The WCD is an effective therapeutic option for treating VT/VF in the early period post-MI and post-revascularization in patients with left ventricular dysfunction.
Click here to read the full publication
Epstein AE, Abraham WT, Bianco NR, et al. Wearable cardioverter-defibrillator use in patients perceived to be at high risk early post myocardial infarction. J Am Coll Cardiol. 2013;62(21):2000–2007.