Diagnostic and Interventional Cardiology (DAIC): October 2019
Sudden Cardiac Arrest Patient Walks to Ambulance Thanks to Wearable Defibrillator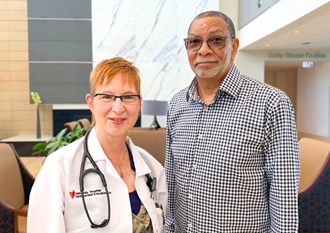 Glynn Crawford, 68 of Warrensville Heights, OH, was prescribed LifeVest after he was diagnosed with non-ischemic cardiomyopathy. His cardiologist, Barbara Williams, MD of UH Harrington Heart & Vascular Institute recognized Glynn's weakened heart function put him at risk of sudden cardiac death, and she wanted to ensure he had protection.
Just three days later while asleep at his home, Glynn's heart suddenly spiked into a rapid life-threatening rhythm.
"The next thing I knew, I woke up with my wife telling me that the vest had shocked my heart back into rhythm," said Glynn. "The alarm had alerted her to what was happening and she called 911."
He regained consciousness immediately following the treatment. "When they arrived, I was able to walk outside to the ambulance myself," explained Glynn.
Glynn was transported to the hospital, where he later received an implantable defibrillator (ICD) for long-term protection. The Crawford family is grateful that LifeVest saved Glynn's life.