<< Back to all patient stories
Leo Matheny's Story
"My family gave me the motivation to keep wearing it."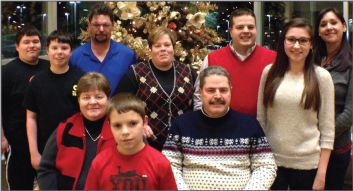 Leo Matheny never expected that his 69th birthday might be his last. But as he was out to dinner with his wife and sister, in the middle of a crowded restaurant, Leo abruptly lost consciousness, slipped off of his chair, and collapsed onto the floor. He was experiencing a sudden cardiac arrest, a condition that is fatal if not treated in minutes. But Leo survived that day.
Leo's health issues started to worsen approximately one year prior. He had been frequently tired and described the preceding twelve months as a "downhill slide." When Leo went to see his cardiologist, he was diagnosed with dilated cardiomyopathy. More tests were ordered eventually resulting in a stent being placed into his heart. As part of his follow up evaluation, his cardiac team discovered that his heart was still not pumping blood efficiently, putting him at very high risk for a sudden cardiac death. To protect him, Leo was prescribed with a LifeVest® wearable cardioverter defibrillator (WCD).
Leo's cardiac team explained that he was to wear the LifeVest WCD 24 hours a day – taking it off only to shower. Because his heart had been weakened, he was told that the LifeVest would be his safeguard. If it detected certain life-threatening rapid arrhythmias, the device was designed to deliver a treatment shock that could save his life. "It keeps you in the ballgame," Leo described, "It made me feel assured. This was something that would help me continue to live in case I had a sudden cardiac arrest."
"My wife and my family gave me the motivation to keep wearing it," Leo commented. The experience made them all realize that he was at a real risk of dying, "The greatest problem is that people aren't aware of the seriousness of their heart condition."
On the evening of Leo's 69th birthday, just two weeks after he had been prescribed LifeVest, he went out to dinner with his wife and sister. Just as he had started to take a bite of food, Leo recalls that everything suddenly went dark. The last thing he remembers is starting to slide out of his chair: "I had no warning. I didn't feel any pain. There was no time to react." Leo's heart had entered into a dangerously fast rhythm called ventricular fibrillation, which is fatal if not treated in minutes. Leo's sister was sitting across the table and recalls the suddenness of his event. They were in the middle of a conversation, when in a matter of seconds, before she had a chance to even process what was happening, Leo became unconscious and fell to the floor.
Within less than one minute, Leo's LifeVest delivered a treatment shock that restored his normal heart rhythm and saved his life. He regained consciousness moments later to find a crowd of onlookers. To everyone's surprise, Leo reported that he felt better than he had in months. After speaking with his doctors on the phone, Leo and his wife went into the emergency room, where Leo was admitted. He remained in the hospital for three days, during which his doctors wanted Leo to continue wearing LifeVest to protect him from any additional sudden cardiac arrest events. After those three days, Leo received an implantable defibrillator for long-term protection from sudden death.
The experience had an emotional impact on Leo's family, particularly his son. Leo's own father had suffered a cardiac-related death on his birthday: "When my son heard about the sudden cardiac arrest on my birthday, it really scared him." But thanks to LifeVest, Leo did not suffer the same fate. "My family is very thankful. They realize I could have died." Leo and his wife, their two children, and four grandchildren are now looking forward to celebrating many more birthdays together.
"The reason you've got the LifeVest is that your doctor seriously thinks that you may have a sudden cardiac arrest," Leo concluded, offering his advice to future patients. "I actually died and the LifeVest brought me back. It saved my life."